Important News for You
Important information about keeping your health care benefits!
Members must renew Medical Assistance eligibility at the renewal date.
You are required to renew your Medical Assistance eligibility at your renewal date. Your action is needed.
See what to expect from communications from DHS.
Make sure your contact information is up to date.
Determine your renewal date.
Check your mail.
Complete and return your renewal packet on time.
When help is needed: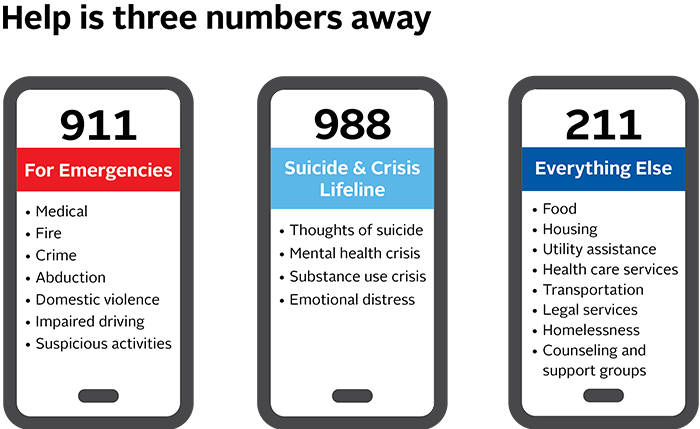 Support and Referral Helpline: 1-855-284-2492
Crisis text line: Text HOME to 741741
Help is three numbers away
911
988
Thoughts of suicide
Mental health crisis
Substance use crisis
Emotional distress
For more information, refer to 988 (PDF)
211
Food
Housing
Utility assistance
Health care services
Transportation
Legal services
Homelessness
Counseling and support groups
End of SNAP extra payments
SNAP emergency allotments (EAs) are an additional SNAP payment that has been paid during the second half of each month since the pandemic started in 2020. These payments were authorized under the Coronavirus Aid, Relief, and Economic Security (CARES) Act. Due to a recent change in federal law, SNAP households will no longer receive SNAP EA payments in the second half of the month. Starting in March 2023, SNAP households will only receive their regular SNAP payment.
The last extra payment for SNAP households will be sent in February. Starting in March 2023, SNAP households will only receive one SNAP payment.
Help is available! Please see the information on food assistance resources.
DHS knows that this is a big change for SNAP households. Please reach out to food assistance programs available in your community if you need help feeding yourself or your family. Find assistance programs at DHS' Ending Hunger site or from the Department of Agriculture.
Resources for members
For resources that may help you or your family, please check out our Member Resources page.
Our Member Services staff is here to serve you and to answer your questions 24 hours a day, seven days a week. Call anytime at the phone number for your county listed below.
Cumberland, Dauphin, Lancaster, Lebanon, and Perry counties
Member Services: 1-888-722-8646
Member Services TTY: 1-800-654-5984 or PA Relay 711
Franklin and Fulton counties
Member Services (Franklin-Fulton): 1-866-773-7917
Member Services TTY: 1-800-654-5984 or PA Relay 711
Providers
Coronavirus Disease (COVID-19)
Refer to the following resources for the most up-to-date information on COVID-19: